A Patient Engagement Platform
Keeping patients engaged on their devices is where the transformation of the healthcare industry will take place. Qlinic will lead the way.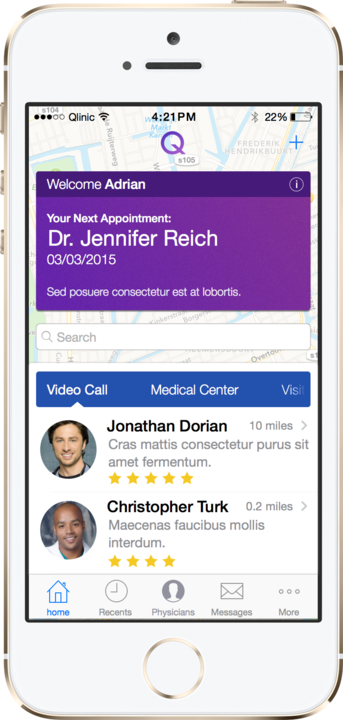 Getting a truly native custom app built for your medical group is as simple as 1, 2, 3.

1) CONTENT
Assemble all the directory information of the medical group.

2) BUILD
Design and build custom native app with Qlinic's core features.

3) LAUNCH
We beta test and once every stone has been turned we publish your app.
When you enable the patient to be the center of his or her care team wonderful things take place.
Research has shown time and again that both patient and care provider greatly benefit from a patient engaged in his or her healthcare. Patients are more likely to achieve better health outcomes and medical groups reduce cost, improve workflow, increase brand value and awareness and so much more.
"For healthcare to be fixed,
patients need to be equipped, enabled, empowered and engaged, working in partnership with providers to change the system."
Jan Oldenburg
@janoldenburg
"We must therefore embrace
a model of information symmetry, in which the patient and clinician are partners, collaborating around the patient's health."
Dr. Daniel Z. Sands
@drdannysands

"When patients contribute
critical health data, their providers receive a more complete picture of their health and conditions, which can lead to better care decisions."
Kate Christensen
@aquavita

Modern Patient Engagement tools built for both the patient and clinical side of a healthcare team.
Communication
is the best medicine
Qlinic's core features are the bedrock on which medical groups can build their own patient engagement strategy.
Population Health Management and Patient Engagement continue to be a growing need for medical groups as they're incentivized to move towards a value-based care system. Patient engagement tools independent of any EHR are few and none forcing many medical groups simply move forward with the limited features provided by their EHR vendor. We believe something as important as Patient Engagement deserves it's own platform. We call it Qlinic and it's core features are built and designed to work alongside any EHR or PM system.

Directory
To keep the patient engaged is to help him or her easily navigate through your information.

Live Chat
A receptionist can't handle more than one call but CAN have multiple chats with patients.

HIPAA Compliant Forms
Funnel ALL your communications through a HIPAA compliant portal. Not just appointment requests.

Internal Chat
The bigger the team the more need for tools to communicate with fellow medical staff.
The more we learn about your medical group the better we are able to show you how Qlinic can meet and exceed your Patient Engagement needs
It's time to really engage your patients
Let us explain exactly how the Qlinic platform works and let's discover how it can work best for your medical group.
Within 12/hr
Rapid contact